Low Emissions with WJF Technical Support working on behalf of Eminox
WJF Technical Support has been working with Eminox on it's retrofitting programme for approximately four years. Working with the Eminox team of experts has grown into a strong engaging relationship, and we now also undertake their service work (in partnership) all over the UK. With highly trained technicians able to diagnose and rectify faults using the latest plug-in technology on projects including Transport for London (TFL) – Green Corridors, Ultra Low Emission Zones (ULEZ) and Clean Air Zones (CAZ) Please follow the link for further information.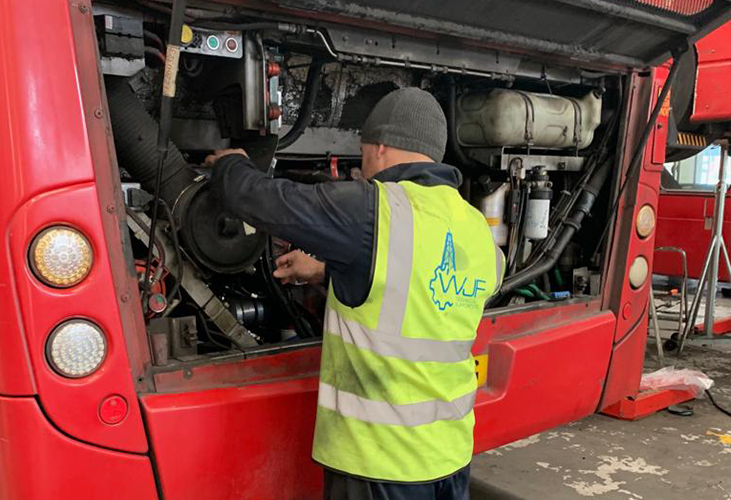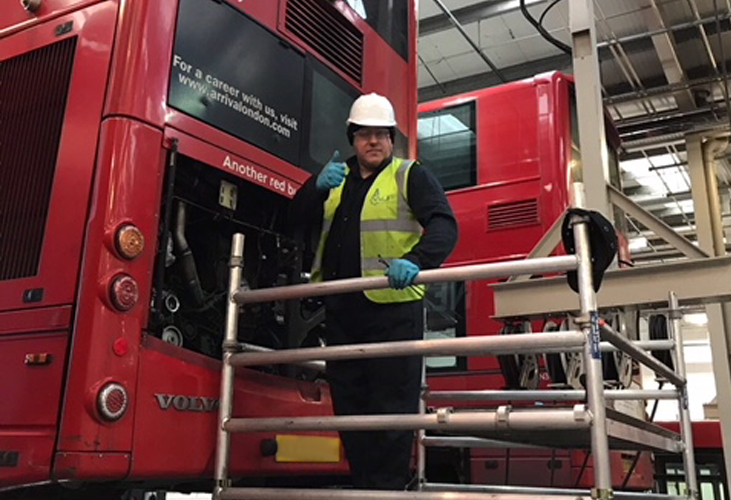 Transport for London (TFL) Green Corridors
The Mayor of London, Sadiq Khan, has announced plans for 10 more Low Emission Bus Zones deploying the greenest buses on the capital's most polluted routes to cut harmful nitrogen oxide (NOx) emissions.
The new greener buses, which will be a combination of hybrid and clean buses that meet Euro VI standards, are part of an improvement programme to 3,000 buses outside central London.
The zones are expected to reduce NOx emissions from buses along the routes by around 84 per cent and will fulfil the Mayor's manifesto commitment to introduce Low Emission Bus Zones by 2020.
Low Emission Bus Zones are one of several measures the Mayor has asked TFL to take to reduce emissions from the capital's bus fleet, including the phasing out of diesel only buses and a commitment to purchase only hybrid or zero emission double deck buses from 2018.
Ultra Low Emission Zones (ULEZ)
From September 2020, all cars, motorcycles, vans, minibuses, buses, coaches and heavy goods vehicles (HGVs) will need to meet exhaust emission standards (ULEZ standards), or pay a daily charge, when travelling in central London.
The ULEZ standards are in addition to any Congestion Charge or Low Emission Zone (LEZ) charges already applied. The area covered by the ULEZ is the same as the current Congestion Charge Zone (CCZ). It will operate 24 hours a day, every day of the year, including weekends and public holidays.
To support the ULEZ, all double-decker buses operating in the Congestion Charging zone will be hybrid electric vehicles and all single-decker buses in the zone will emit nothing from their engine exhaust (they will be full electric or hydrogen models).
Clean Air Zones (CAZ)
A Clean Air Zone defines an area where targeted action is taken to improve air quality and resources are prioritised and coordinated to shape the urban environment in a way that delivers improved health benefits and supports economic growth.
Clean Air Zones aim to address all sources of pollution, including nitrogen dioxide and particulate matter, and reduce public exposure to them using a range of measures tailored to the location.
Clean Air Zones fall into two categories:
Non-charging Clean Air Zones – These are defined geographic areas used as a focus for action to improve air quality. This action can take a range of forms including, but not limited to, those set out in Section 2 but does not include the use of charge based access restrictions.
Charging Clean Air Zones – These are zones where, in addition to the above, vehicle owners are required to pay a charge to enter, or move within, a zone if they are driving a vehicle that does not meet the particular standard for their vehicle type in that zone. Clean Air Zone proposals are not required to include a charging zone.
About Eminox
Eminox supply to powertrain, bus, truck, rail, and non-road mobile machine manufacturers around the world. They have developed systems for global OEMs to meet the latest standards including, Euro VI and Stage IV regulations for diesel engines.
Eminox Retrofit emissions systems can upgrade vehicles to the latest standards achieving Euro VI emissions, at a fraction of the cost of new vehicles.
Eminox design their emissions systems for use in urban environments and deliver proven real world emissions reduction.
Eminox systems can be deployed on heavy duty vehicles and equipment, including buses, truck, construction machines, rail locomotives and specialist vehicles.